UNIHALT
Vision & Mission:
Unihalt's vision is to harmonize/sync in teachers, parents and students. We created a mesh of communication which people would instinctively opt for. A dream to create the ultimate secure hub of communication between teachers, parents and students.
Problem and Solution:
Unihalt provides ABaaS(API Backend as a Service) based mobile solution for providing a two way communication between teachers and parents. Using our API based solution teachers can broadcasts or provide personalised notifications to parents. Parents in turn can revert back with feedbacks.

Our solution can fit into any existing School Management Systems, Billing Systems, Fleet Management Systems to provide the necessary features. We also integrate with Biometrics/RFID Devices to give notifications to the Parents on arrival of the student in their campus. With our solution Parents are updated about the progress of their child, his attendance and about important events in a schools in his mobile itself.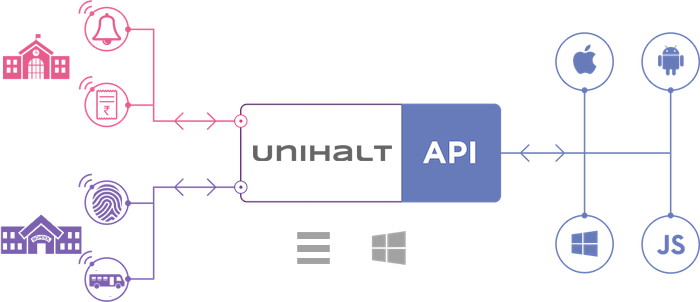 Description:
Robust tools provided by us makes parent's and teacher's experience with Unihalt effortless. We prioritize on dynamic tools which would cut back on the strenuous activity of managing children. By analysing the needs we have created platforms capable and competent enough to make parents and teachers feel confident about using our services.

We believe that the gap between teachers parents and students would be slowly eroded with Unihalt. These days when the world is getting smaller and smaller, our search for security becomes harder and harder. We understand the needs and anxieties about the little ones. Our company throttles the communication and technology in the direction to solve all troubles.
Press articles: